The sudden death of silverback Rafiki leaves the Nkoringo gorilla group leaderless and vulnerable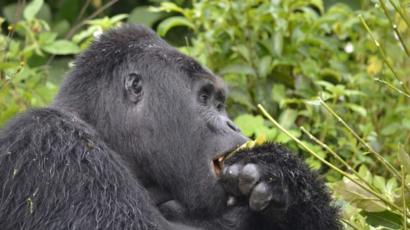 Silverback Rafiki has been killed by poachers within the protected forests of the Bwindi Impenetrable Forest, Uganda.
The mountain gorilla, who was around 25 years-old and the leader of the Nkoringo group, was reported missing at the beginning of the month. Now, the Uganda Wildlife Authority has confirmed that rangers found his body, with an initial analysis showing he was killed deliberately with a sharp object.
Four men have already been arrested in connection with the killing, though the circumstances are still being investigated. Gorilla Organization staff in Uganda have reported that communities around the gorilla habitat are becoming increasingly desperate as the local economy slows. Growing numbers may start turning to poaching and this rise in opportunistic hunters places gorillas at even greater risk than normal.
Gorilla Organization Director Jillian Miller said: "We are all so distraught to hear of Rafiki's death. He was one of the most charismatic and famous of all Uganda's mountain gorillas, and his fame helped highlight both the strength and the vulnerability of these creatures. It is important that a full and thorough investigation is required, and that lessons are learned. If the economic impact of the COVID-19 pandemic is pushing people into the forests out of desperation, then our response needs to reflect this, with an emphasis on helping communities as well as on strict law enforcement."
The Nkoringo group was the first gorilla family living in the southern section of the Bwindi National Park to be habituated. Over the years, they became increasingly tolerant of humans and even became famous for their habit of walking around the grounds of tourist hotels.
Under Rafiki's leadership, the group grew to 19 members. Now, without their silverback, the Nkoringo group could break up, leaving its members vulnerable. There is also a risk that an unhabituated silverback could step in, meaning tourists could no longer visit the gorillas.