New babies bring new hope for the endangered mountain gorillas
There's been a gorilla baby boom in 2020. In both Rwanda and Uganda, three times the usual number of mountain gorilla babies have been born this year. Every new arrival brings new hope. But these infants are especially welcome at such a tough time. The killing of silverback Rafiki in June showed just how vulnerable mountain gorillas are, and why, even when numbers are going up, conservation efforts are just as important as ever.
So far, none of the 11 babies born this year have been officially named. But we know a lot about those born to habituated gorilla groups. Here are just three of the new arrivals: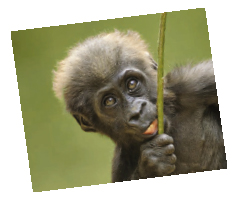 Nshuti's baby
Good-natured Nshuti (whose name translated as 'my friend') gave birth to her first infant in September. The 16-year-old new mother is part of the Nyakagezi group who live in the Mgahinga National Park. The baby brings the group's number to nine individuals – including four silverbacks! In fact, the family is of great interest to both researchers and tourists. Not only does it include four adult males, but Bugingo, who is believed to be over 50 years-old, has stayed around after being replaced as leader by his own son, Mark. His presence gives the new baby even more protection.
Kibande's baby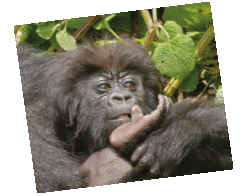 Kibande is the eldest female of the Rushegura group. The family live in the Buhoma sector of the Bwindi Impenetrable Forest and are regularly monitored by rangers. At the end of August, these rangers spotted Kibande cradling a new-born, her fifth infant. Kibande's eldest offspring was born back in 2001 and is now a powerful silverback and second-in-command of the group. The baby took the group size up to 17 members, and the family looks stable and healthy.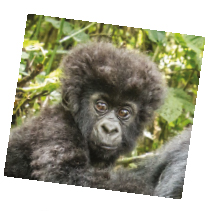 Ndinkhane's baby
As a young adult, Ndinkhane (whose name literally translates as 'Where am I?') left her original family to join the Mucunguzi group. Led by the silverback of the same name, this group is habituated to humans and closely monitored by rangers and vets. So, when 16-year-old Ndinkhane gave birth to her first infant in October, the good news spread fast. This takes the Mucunguzi group, which lives in the Rushaga sector of Bwindi, up to 12 individuals. Both mother and baby are doing well, and silverback Mucunguzi has taken the new arrival very much in his stride.
Help us to keep the Babies of 2020 safe!
Infant gorillas are extremely fragile and vulnerable. They are entirely dependent on their mothers for the first three years of their lives. But, like any youngster, they are also naturally curious and restless – and their mothers or the group's watchful silverback can't always keep an eye on them. Young gorillas are particularly vulnerable to poachers' snares. Their little arms can get caught in the crude wire traps. And the results can be fatal.
We fund ranger patrols that sweep the forests looking for snares. We also fund the specialist vets that help gorillas in need. Please consider giving whatever you can to help keep this new generation of gorillas safe from harm.