Rangers are ready to make the ultimate sacrifice. Will you help make sure they don't have to?
The war in DR Congo is now officially 'over'. But still, rangers are dying.
Earlier this year, six rangers were killed in an ambush. The attack took place inside the Virunga National Park, home to some of the world's last-remaining mountain gorillas.
More than 200 rangers have now lost their lives in the line of duty. Morale is low. And the situation is getting more dangerous all the time. Former fighters have taken over large sections of the dense forests and the illegal trade in minerals and charcoal is still as valuable as ever. The armed men will do anything to protect that trade – and they will think nothing of killing rangers trying to safeguard the gorillas and their habitat.
Our rangers understand the risks they face and they think those risks are worth taking if they help to save gorillas from extinction. In fact, what really worries our rangers while they're out spending long nights in the heart of the forest, is not what might happen to them. No, they are worried about what would happen to the gorillas if they weren't there to protect them.

Boots and coats wear out in weeks in the heart of the forest. Communications equipment and tents are destroyed in the harsh terrain. But we can't provide them without your help. With your continued support, we can also continue to help rangers' families grow the vital crops they need to survive. We can help their children go to school and get the education they need to thrive. By working together with local communities like this we can give the gorillas an even better chance of survival.
In the last couple of years alone we've managed to bring about some great victories. Against all the odds, we've protected them from the deadly Ebola virus. We've managed to keep them safe from the pandemic – and no wild gorilla has yet died of coronavirus. We've discovered – and protected – more precious gorillas in Walikale and Itombwe. None of these victories would have been possible without our rangers. And those rangers would not be there without you.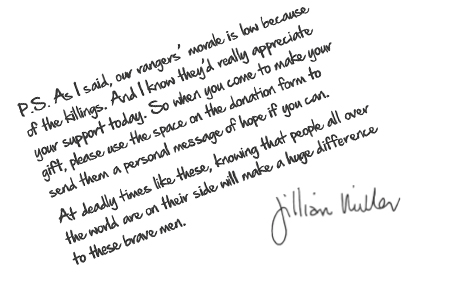 Anything you can give will help these brave men as they work to keep our last precious gorillas safe from extinction.
Thank you.