Digit News 52 is out now, celebrating the conservation successes of the last year while also recognizing the threats gorillas still face
The past 12 months have been some of the most difficult in our history. But thanks to you, we have managed to keep up our vital work to protect gorillas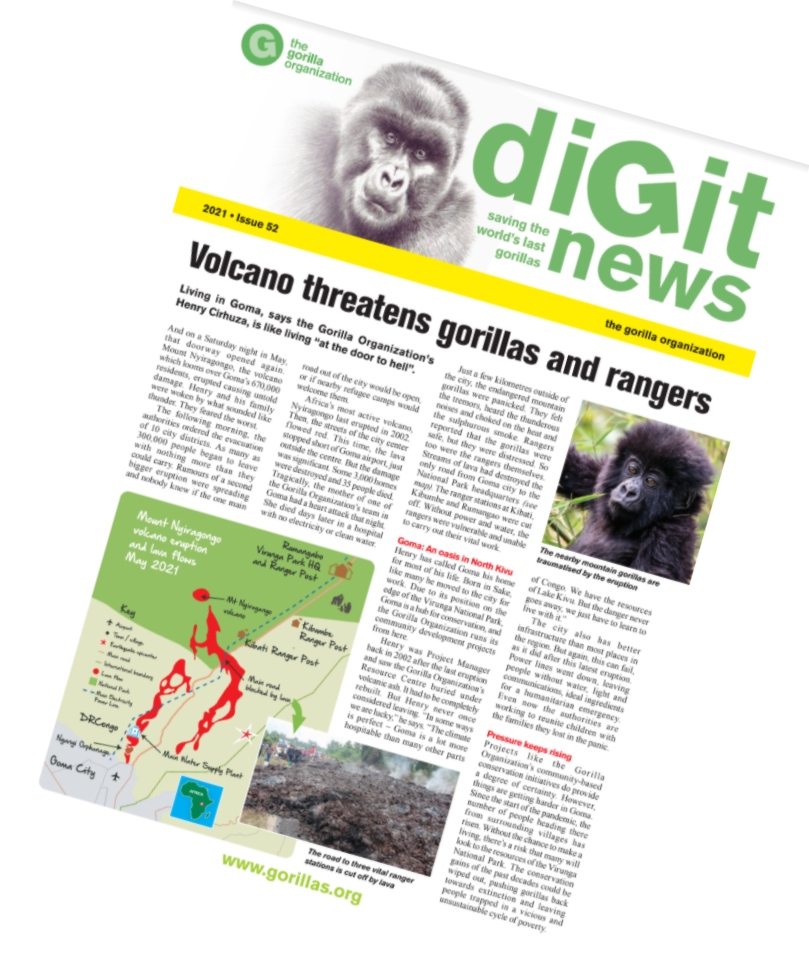 in the face of incredible challenges.
Our greatest single achievement of the last year has been helping ensure that not a single gorilla in the wild has caught COVID-19. In the new edition of Digit News, you can read more about some of the ways you've been helping to keep gorillas safe. You'll discover how rangers in the Democratic Republic of the Congo (DRC) have been coping with the challenges of protecting gorillas since the devastating volcanic eruption near Goma destroyed the water and electricity supply to their ranger posts.
And you'll be thrilled to hear about the results of the latest survey of Grauer's gorillas in the DRC. This shows that there are many more of these wonderful creatures that we had previously believed.
Help Us Keep Gorillas Safe from Harm
Of course, Grauer's gorillas are still critically endangered – just one short step from extinction – so we cannot drop our guard even for a single second. Not can we believe the pandemic is over. Right now, the fall in tourism is placing serious pressure on communities living alongside the National Parks. Cases of poaching are on the rise, placing gorillas at risk of deadly snares and making our community-based conservation projects more important than ever.
That's why we are calling on all supporters to help us keep the momentum of the past year going. Any donations will be put to immediate use where they will make a real difference: funding ranger patrols and addressing the root causes of the threats facing all four sub-species of gorilla.
Please, donate today. Thank you.
And download, read and share Digit News 52 and some older copies of the newsletter here.