The Gorilla Organization team at Walikale have confirmed they have finally captured a critically-endangered Grauer's gorilla on camera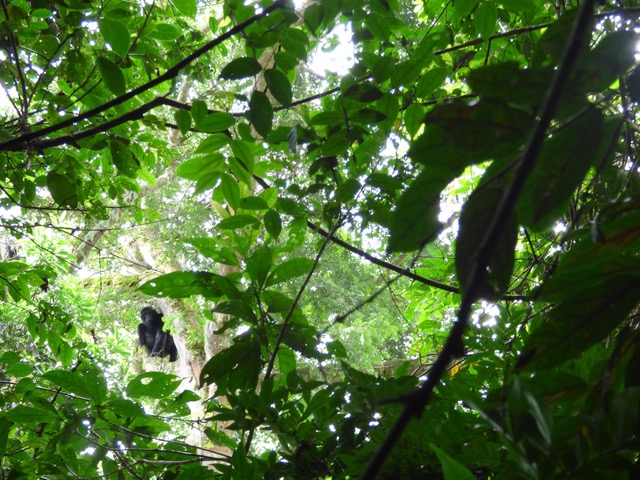 The Gorilla Organization team at Walikale have managed to capture on camera one of the 500 Grauer's gorillas (eastern lowland gorillas) believed to be living there.
A small team has been running a community-led conservation project at the Walikale Community Reserve since 2004. While rangers have found nests (the beds the gorillas make every day), and while scat and other evidence shows that there are at least  500 gorillas (of a total population of 3,800) living in the forests, they have long struggled to capture photographic evidence of the critically-endangered great apes.
According to project manager Andre Bayamungu, unlike some mountain gorilla groups, these gorillas are not habituated, making them extremely shy and wary of people, including rangers working to protect them.
"When you think that there are many hunters and rebels here who shoot them, it's understandable that they live in permanent fear of humans!" he says.
Luckily, Andre adds, a small team of rangers got lucky and came across three adult female gorillas up in the trees. Even though they tried to intimidate the rangers, one of the team succeeded in leaving the forest with the first known picture of a Walikale gorilla.
"This is proof that our long-term commitment is paying off," says Director Jillian Miller. "There are no quick fixes in conservation, least of all in gorilla conservation, so I'm thrilled that our team have finally managed to get that elusive picture!"
Dan Bucknall, Executive Director of Tusk Trust, adds: "After so long, it's amazing to see this image from Walikale. Tusk is proud to have supported the Gorilla Organization on this project from its very early days, and have deep admiration and respect for the team. This photo really shows how scarce, inaccessible and vulnerable gorillas are in that part of the world."
Alongside the daily ranger patrols, the team at Walikale carries out vital outreach work. Village chiefs have agreed to become custodians of the forest and the number of snares being left on the forest floor is falling. At the same time, Andre and the team have also built a school and are busy training 12 teachers to spread the message of conservation. Now that they have a picture of the elusive gorillas of Walikale, getting the local communities on side will become that little bit easier.