Gorilla Organization chairman Ian Redmond and his fellow adventurers paused on Mount Kilimanjaro to celebrate World Ranger Day 2014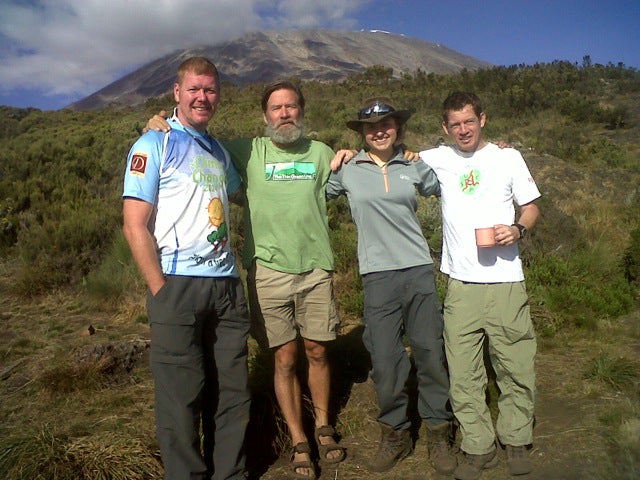 Gorilla Organization Chairman Ian Redmond and his team of fellow adventurers paused their planned ascent of Mount Kilimanjaro to celebrate World Ranger Day 2014.
The intrepid conservationist is part of a large team of wildlife-lovers climbing Africa's highest peak to raise money for a number of vitally-important projects right around the world. With the climb going to plan, the team took time to rest at the 11,000-feet mark, reflecting on the important work wildlife rangers do, not just in Africa, but in large parts of Asia as well.
In Africa, for example, rangers work every day of the year to clear the gorilla forests of snares put down by poachers. Such snares often trap unwitting gorillas, sometimes with fatal consequences, making a ranger's work crucial. Rangers are also tasked with preventing illegal mining and charcoal production from taking place in the protected forests, something which puts them in direct conflict with well-organised gangs of armed criminals.
Speaking from half-way up Kilimanjaro, Ian (second-left) explained: "In recent months I have worked alongside rangers and wardens in Nigeria, Rwanda, Uganda, DRC and Tanzania. I've seen them arrest a poacher, destroy illegal cattle-herders camps, explore unknown forested valleys, provide friendly security and help tourists visiting mountain gorillas and – this week – climbing Kilimanjaro.
"So on World Ranger Day 2014, on our approach to the summit of the world's highest free-standing mountain and Africa's highest point, I salute all rangers and wardens for their dedication and courage in protecting our planet's natural wonders and the ecosystems that sustain us all.  They are an inspiration!"
All the money raised by Ian for the Gorilla Organization will go directly to fund the innovative community conservation projects being carried out in Africa. For example, the money could be used to help vulnerable communities learn to make a viable living outside of the forests, taking away the need for poaching and reducing habitat destruction.
To find out more about the climb and to contribute to Ian's fundraising efforts, visit his Just Giving page.