The Gorilla Organization chairman Ian Redmond took the Mirror newspaper to see Rwanda's gorillas 40 years on from a TV landmark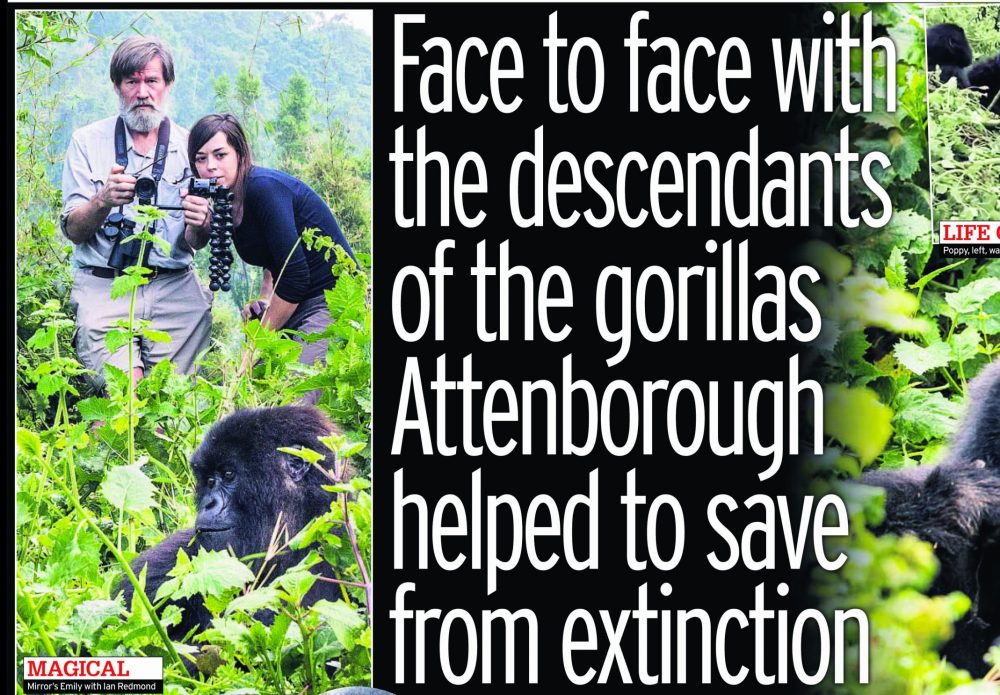 Four decades on from the landmark BBC TV series that 'helped change the fate of a species', Gorilla Organization Chairman Ian Redmond has returned to visit Rwanda's majestic mountain gorillas. And this time, he took a national newspaper with him.
Back in 1978, Ian was a 22-year-old research assistant to pioneering primatologist Dian Fossey. Just days after Dian's favourite mountain gorilla, the silverback Digit, was brutally killed by poachers, Sir David Attenborough arrived in the Rwandan jungle to film the great apes for his landmark 'Life on Earth' series.
With Ian's help, Sir David got close to a family of mountain gorillas, allowing them to climb over him and play with him in front of the cameras. When they were later broadcast, the images changed the popular perception of gorillas for good, Ian explained to The Mirror newspaper.
"First, Sir David demolished the King Kong myth by being so clearly accepted by the gorillas," he says. "He turned people's opinions of them around. Afterwards, he used his reputation to raise money and get organisations involved."
When the film was made, mountain gorilla numbers had dropped to below 250. Poaching and habitat destruction were pushing the species to the brink of extinction. Now, however, there are 1,004 mountain gorillas in the world, representing one of the greatest conservation success stories of all time.
The film "helped changed the fate of a species," Ian adds. And, while Sir David has never returned to Rwanda, his legacy there lives on. The descendants of the family the broadcaster met on that famous trip are among the gorilla groups that have been carefully habituated, allowing tourists to see them close-up.
You can read the Mirror feature article in full here.