Ranger Mbera Bagabo has been shot while carrying out his regular patrols Virunga National Park.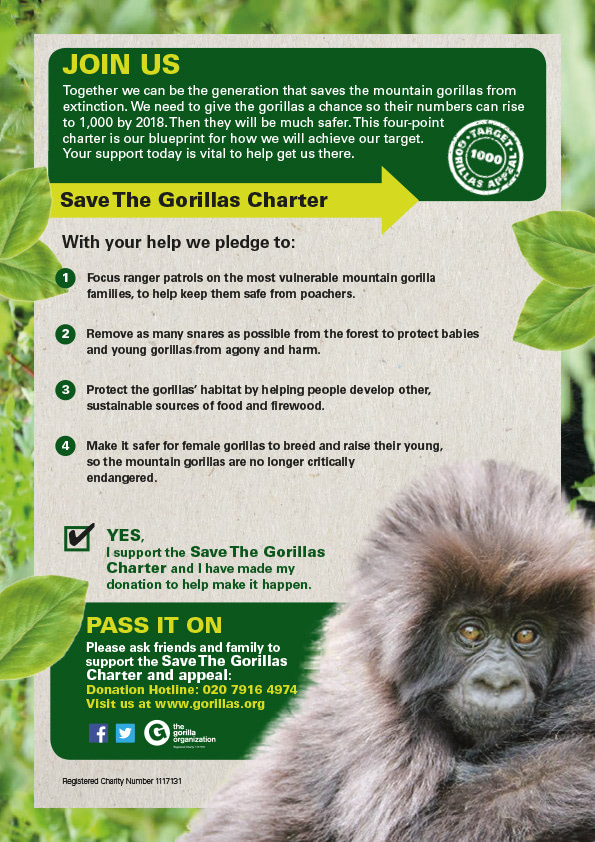 The brave and dedicated team of rangers of the Virunga National Park really are the 'thin green line' that protects the last surviving mountain gorillas from extinction. Day after day, these brave men (and, increasingly, women) patrol the forests, monitoring the gorillas' safety and tackling dangers like poachers, hunters and trespassers.
Thanks to them, the Rugendo family of mountain gorillas has finally got back on its feet. This was the family that lost seven of its members back in 2007. All seven were brutally murdered by a gang of militia intent on taking control of the forest to profit from the lucrative and illegal charcoal trade.
Ranger Mbera Bagabo was one of the first on the scene that day. And in the weeks that followed, he stayed close to the traumatised family, protecting them from more attacks and steadily rebuilding their trust.
Tragically, Ranger Mbera has been shot while carrying out his regular patrols. One of our bravest and longest-serving rangers, he was ambushed by a group of rebel soldiers, attacked without mercy and fatally wounded.
Henry Cirhuza, the Gorilla Organization Programme Manager for DR Congo, knew Ranger Mbera well. He says: "We are all very distressed by the loss of our courageous colleague and friend; he is greatly missed. We are also deeply concerned about the Rugendo family of gorillas, who were especially close to Ranger Mbera. Now that this tiny and vulnerable family has lost its trusted protector their survival is seriously threatened."
It is with the greatest urgency that a replacement ranger is trained and equipped. Without dedicated protection, mountain gorillas are at grave risk from poachers and rebel gangs who will stop at nothing to take control of their protected forests. Traumatised gorillas will often also retreat higher up the mountain, where the colder temperatures increase their risk of developing respiratory diseases and where they are out of reach of specialist vets if they need urgent medical attention.
Henry explains: "Our goal is to raise £28,750 to help train and equip a replacement ranger for the Rugendo family and set him up in the field as a matter of urgency. It will also help to support all our work and other brave rangers, to make sure the thin green line of protection remains strong and unbroken for all the gorillas who depend on us to defend them.
"Thank you again for being a loyal friend to the gorillas. I hope you will be there again for the Rugendo family, now they need you so badly."