JOIN TEAM GORILLA AT ONE OF THE MOST ICONIC RACES IN THE WORLD - THE VIRGIN MONEY LONDON MARATHON 2017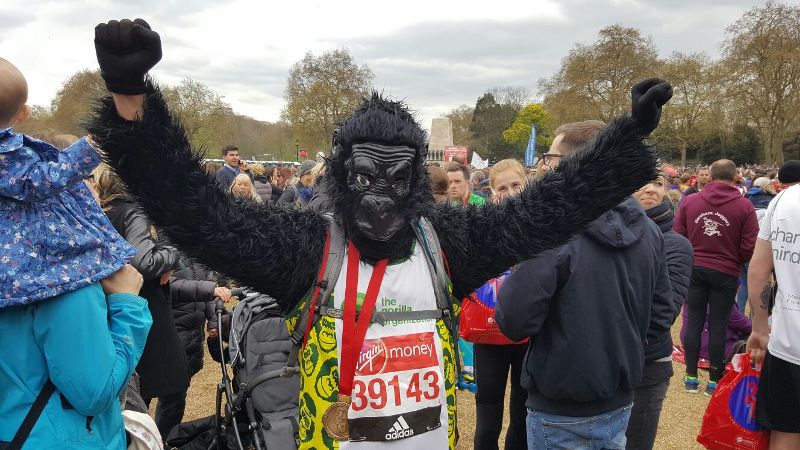 JOIN TEAM GORILLA AT ONE OF THE MOST ICONIC RACES IN THE WORLD – THE VIRGIN MONEY LONDON MARATHON 2017.
In 2017 there will be an expected 40,000 runners at the London Marathon and we invite you to join them in the name of gorilla conservation. Enjoy the incredible atmosphere created by thousands of spectators lining the course and the spectacular views of our fabulous capital while making your way around the 26.2 mile course. All the money you will raise for The Gorilla Organization will go directly towards ensuring the survival of the world's remaining gorillas.
SO WHAT ARE YOU WAITING FOR? JOIN #TEAMGORILLA TODAY.
As part of Team Gorilla you will receive:
• A DEDICATED CONTACT who will give you one to one support all the way
• FUNDRAISING SUPPORT, materials, ideas and tips
• A Gorilla Organization branded RUNNING TOP
• Access to professional TRAINING PLANS
• Most importantly we will provide you with a reason to put in those months of training and fundraising, because you know that your efforts are going towards saving gorillas.
To apply to join Team Gorilla for the 2017 Virgin Money London Marathon please complete our online application form, we will then be back in touch to let you know if you have been successful.
Please note – filling in our application form does not guarantee you a charity place.
How we allocate our charity places
Our charity places are allocated as fairly as possible through applications. There is a minimum fundraising amount of £1750.00 and allocate our places using the following three main criteria to make the decision –
• Reasons for wanting to support the charity
• Fundraising plan
• How much someone can raise
If we are able to give you one of our charity places, there will be a £100.00 Registration Fee to join Team Gorilla.
Volunteers
Every year we rely on hundreds of volunteers to help us provide our supporters with the best experience possible on event days. If you would like to join our team of event day volunteers please complete our volunteer enquiry form.