Great apes need great volunteers. And few come greater than Phred Newbury, who has been helping gain vital support.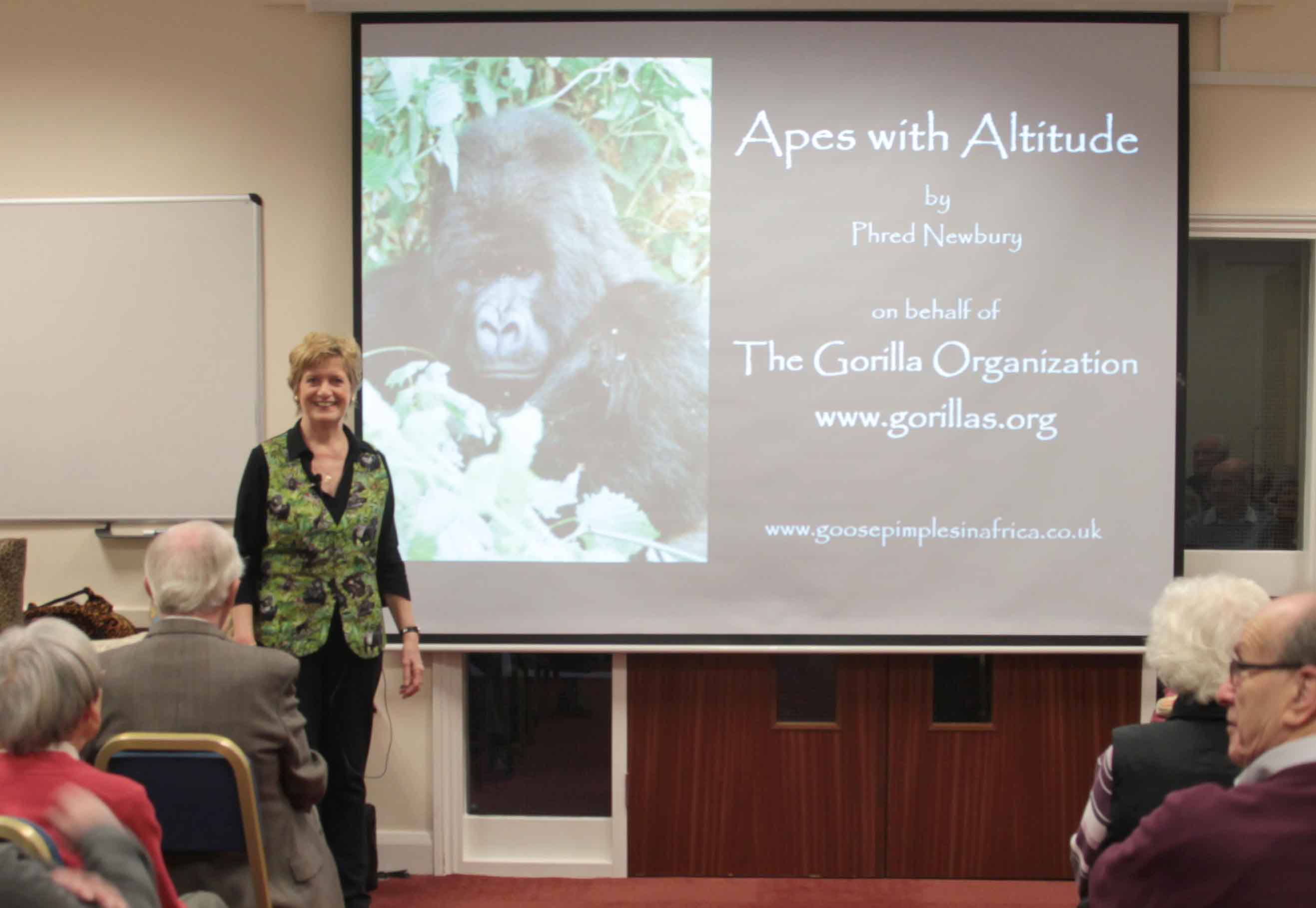 Great apes need great volunteers. And few come greater than Phred Newbury, who has been helping gain vital support for the world's last remaining gorillas through regular illustrated talks and fundraising events.
The gorilla fan, who has raised thousands of pounds for The Gorilla Organization over the years, explains, in her own words, why she has dedicated a large part of her life to helping primates in peril…
"2014 marks a special anniversary for me as it was in 1994 that I began fundraising for The Dian Fossey Gorilla Fund, Europe (DFGF), now known as The Gorilla Organization (GO).
In the autumn of 1993 I went on a life changing adventure to see mountain gorillas in Rwanda. The trip was led by Ian Redmond who had been a research assistant to Dian Fossey and is now GO's chairman and the recipient of a well deserved O.B.E.
Back then, there were fewer than 650 mountain gorillas left in the world. I was upset to discover this, so on the way back to the U.K. I asked Ian if there was anything I could do to help. I had no qualifications to work in the field, but as I had some experience with fundraising I decided to become a Regional Volunteer for GO.
Many fundraising events take place in London, local to GO head office – for instance, the fantastic annual Great Gorilla Run (I did the first one in 2003). However, for people who find it difficult to the capital, it's important to get the message out in other areas and I thought that people may be more inclined to help if they heard about the plight of gorillas first hand.
My first event in July 1994 was an illustrated lecture delivered by Ian Redmond about his time working with Dian Fossey, held in the Arts Centre of our hometown – Evesham in Worcestershire. To publicise the event, I approached local newspapers and radio stations and they thought it would make a great story. It certainly did and the media coverage helped to make the event a huge success. As well as considerable ticket sales, we sold gorilla themed merchandise and organised a raffle. A tip for unusual raffle prizes: local businesses are often happy to donate vouchers for their goods or services as it gets them potential new customers.
Another important thing the event did was to provide entertainment in return for people's contributions. This is my top tip for successful fundraising: involve or entertain people in some way rather than just ask for their money. Think about those big shows or charity events on television and how successful they are when people can participate. This is why, over the years, I've come up with a number of fun, yet interesting, thought provoking events which we have organised locally.
A few examples of events we have been able to put on over the years: a Children's Activity Event, when over the course of a week, a huge gorilla collage was made. Great fun – even adults couldn't resist getting down on their hands and knees to help. A special screening of Gorillas in the Mist with Ian Redmond introducing the film at a charming local independent Cinema and Arts Centre. This famous film is often shown on television, but it's rare to see it on the big silver screen, so once again, it was unusual enough to receive the necessary publicity to draw in the crowds and we raised a large sum of money and a great deal of awareness.
After seeing a number of Ian's wonderful lectures, I realised that an illustrated talk was not only a way to raise funds, it was an entertaining way to raise awareness. Therefore, in 1998 I decided to give talks myself – okay, not as expertly as Ian and to much smaller audiences – at Women's Institutes, Probus, Rotary and Friendship Clubs, Schools, etc., but at least it informs people from other walks of life who would not necessarily know much about gorillas. Also, there is no organising required on our part. After I've taken a booking, it only means turning up at the venue where the club's meetings are held, setting up my digital equipment and giving a presentation in return for a donation to GO.
Fundraising can be challenging with so many charities out there, but think about the first three letters and make it FUNdraising. By putting on one entertaining event each year, giving a few presentations and possibly getting a local school to do an annual sponsored event (ours did a Swimathon), considerable sums can be raised fairly easily. If you have time and a large circle of helpers, even more can be achieved, but always check with Head Office that it's okay to do it in GO's name. They will provide literature, images, presentations and a speaker or two, so you always have their full support, but remember their staff time and funds are already allocated, so you must be able to put on the event independently and still make a profit for GO. We have been lucky in having the generous support of proprietors and staff of some wonderful venues who charge little or no hire fees.
Being a Regional Volunteer for GO has many benefits, including meeting a lot of wonderful people who you would not otherwise have met, but best of all you will be doing something positive for gorilla-beings and human-beings who, through no fault of their own, need and deserve our help.
PS: I'm off to stick some sequins onto my gorilla costume, 'cos I always live in hope!"
To learn how you can help play your part and spread the message of conservation to your community, get in touch with the Events Team at events@gorillas.org