London Marathon team raises more than £52,500 for The Gorilla Organization, with donations still arriving.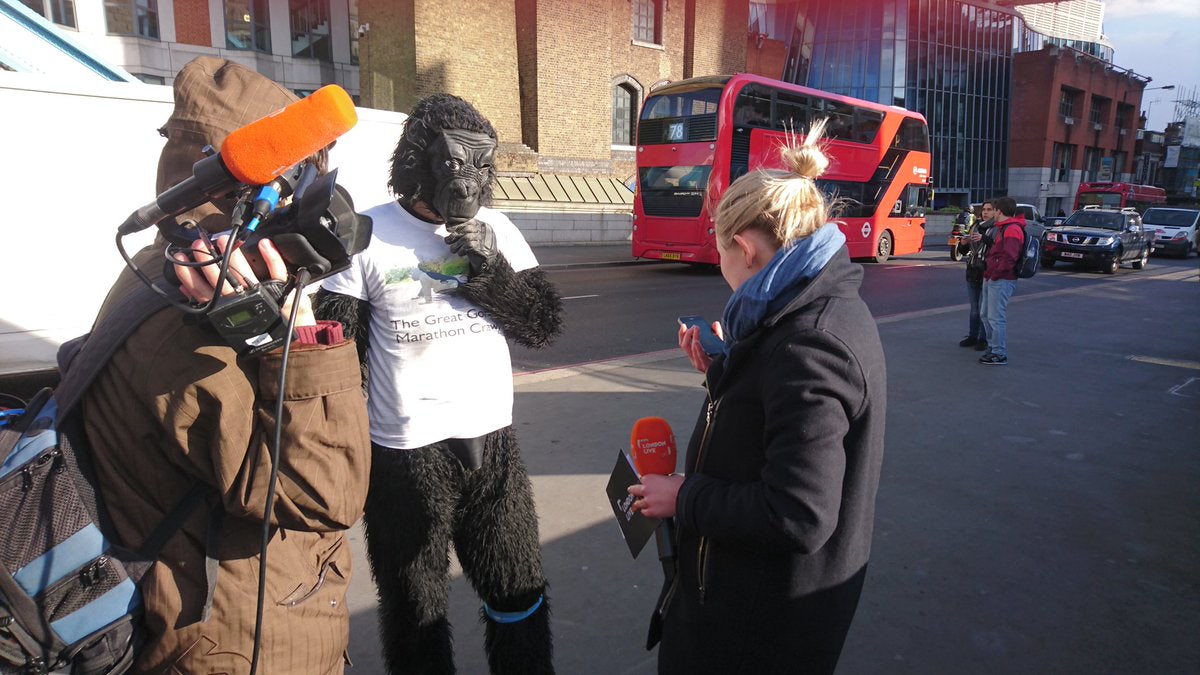 Mr Gorilla's epic crawl has taken The Gorilla Organization's team fundraising at the 2017 Virgin Money London Marathon racing over the £50,000 barrier.
You could help us to a record year by joining the Great Gorilla Run on September 16, or joining Mr Gorilla in the Prudential Ride London 100 on July 30.
Gorilla supporters Tom Harrison, Rob Cumming, Jenny Parker and Simon Cane have raised more than £52,500 since the marathon on April 23 – and donations are still arriving.
Tom – aka Mr Gorilla – crawled and knuckle-walked the marathon route in his gorilla costume, finishing the challenge on the following Saturday. His six-day odyssey was catapulted into the public eye, and Mr Gorilla appeared on This Morning, BBC Breakfast, ITN and even German TV news to spread the word.
Tom's JustGiving page has raised more than £48,500, and we're still counting the additional donations by phone and through our website which kept the phones ringing all week.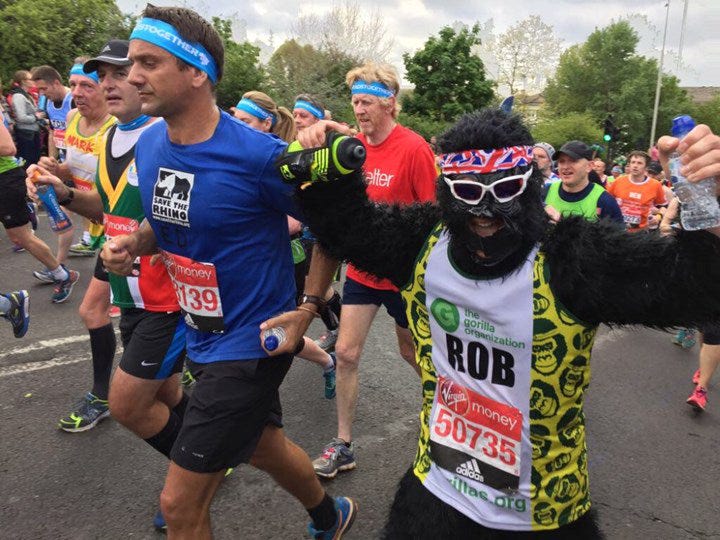 Completing a full 26.5-mile marathon in a gorilla suit is no easy challenge on its own, so we are delighted that Rob 'the Gorilla' Cumming and his partner, Jenny Parker, raised more than £3,000 together, while Simon Cole has delivered more than £1,500 for our projects to save gorillas in the wild. On any normal year, these would have been great contributions on their own!
Jillian Miller, executive officer at The Gorilla Organization, said: "We are grateful to all of our dedicated London Marathon runners for their incredible hard work and wonderful achievements. All of the money they have raised will go towards preventing the extinction of critically endangered gorillas in Africa."
If you're feeling inspired by our marathon fundraisers, you can sign up for The Great Gorilla Run 2017 on September 16, 2016. You'll get a gorilla costume of your own to join hundreds of people in an 8km fun run around the City of London. Head over to greatgorillarun.org to register for the most fun run in London.
Mr Gorilla is also competing in the Prudential Ride London 100 bike race on Sunday, July 30, 2017. If you have a place but you haven't yet picked a charity and you would like to join Team Gorilla, contact us on 020 7916 4974 or info@gorillas.org to see if we have a gorilla suit in your size.