More than five hundred gorillas successfully completed the 11th Great Gorilla Run, going ape along an 8km route through the City of London.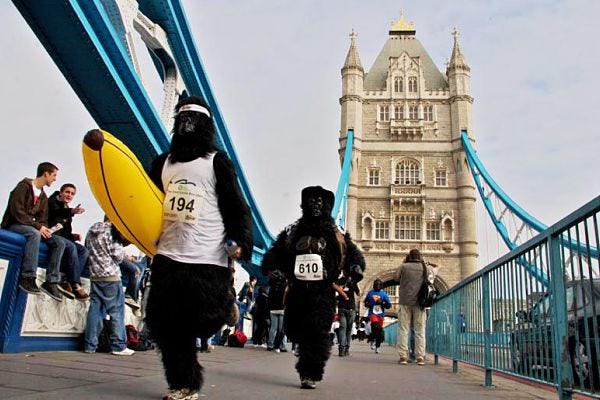 More than five hundred gorillas have successfully completed the 11th Great Gorilla Run, going ape along an 8km route through the City of London.
Supported by crowds of Londoners and delighted tourists all along the way, runners passed by historical landmarks in the heart of the city such as the Tower of London and Tower Bridge, raising awareness for the their endangered cousins in Africa.
As always, the runners creatively tweaked their gorilla suits, sporting beach wear, rock star gear or Planet of the Apes props. And, as always, race patron Bill Oddie was on hand to count them all out and count them all back again as he started the race and then presented them with their medals at the finishing line. Joining him rewarding the gorilla runners for their hard work was celebrity illusionist Uri Geller, who also delighted the crowds with an impromptu display of psychic spoon bending.
The event also generated significant amounts of media attention, both nationally and internationally, ensuring even more people are aware of the threats facing the last remaining gorillas in the wild.
Jillian Miller, director of the Gorilla Organization, honoured the enthusiasm of the gorilla runners, stating that "everyone who participated in the run today has made a great contribution to the work of the Gorilla Organization. Once again, it's been wonderful to see everyone dressed up and getting into the spirit of the event, and it's easy to see why it's now regarded as one of the best, most fun events for conservation happening anywhere in the world."
Addressing runners and their friends and family at the end of the race, Bill Oddie remarked: "Nature brings out the best and the worst things in human being. Today we have seen the former! Gorillas are still endangered and we need to continue doing this really important work."
In the run up to the 2014 Great Gorilla Run, runners had already raised more than £65,000 for the Gorilla Organizations, with more money expected to come in throughout the upcoming weeks. All of the money raised will be used to fund a range of innovative grassroots conservation and development projects, all of them aimed at securing the long-term future of Africa's threatened gorillas.
To sign up for next year's great gorilla run or learn more about the event, visit www.greatgorillarun.org
More pictures from the wonderful day will be shared on the Gorilla Organization's Facebook page, as well as the official Great Gorilla Run Facebook page shortly.