Visiting gorillas in the wild is an experience like no other. But it's also expensive - especially in Rwanda, where permits now cost $1,500.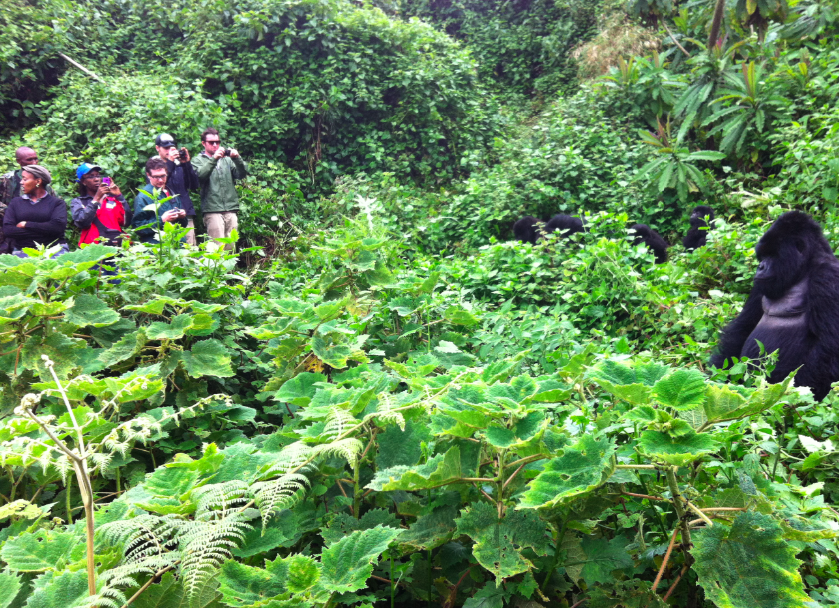 Visiting gorillas in the wild is an experience like no other. It is, however, not so easy to enjoy. Aside from the logistics of first travelling to central Africa and then trekking for hours through dense forests in tough conditions, there is also the cost of the experience, a cost that has gone up significantly over recent weeks – in Rwanda at least.
From now on, permits to see Rwanda's mountain gorillas will cost $1,500, up from $750, a sizeable increase and a bold step by the Rwanda Development Board, especially since neighbouring Uganda has declined to introduce a similar pay hike.
So, why are gorilla permits so expensive, especially when compared with other wildlife-watching experiences such as safaris? After all, visitors are only allowed one hour in the company of the gorillas – a rule that is strictly enforced – before they must leave them in peace. Shouldn't such experiences be more accessible, rather than the preserve of a handful of rich tourists?
Conservation success does not come cheap

Well, in the words of the Rwanda Development Board itself, this price increase will "strengthen conservation efforts and contribute more to the development of communities living around the Volcanoes National Park". Let's consider the first of these. Since the days of Dian Fossey, who more than anyone was responsible for focusing the attention of the world on Rwanda's mountain gorillas through the book and film Gorillas in the Mist, numbers have been increasing steadily, if not spectacularly.
Indeed, relatively speaking mountain gorillas are one of conservation's success stories. They are the only one of the world's great apes whose numbers have been going up not down. Such an achievement has not come cheap. It is the result of considerable effort on the part of the RDB, in partnership with local and international charities and NGOs. Our efforts ensure that the gorillas are monitored day and night, with ranger patrols keeping them safe from poachers and traffickers, and vets on hand to treat them for illness and injury. This round-the-clock care and protection is, of course, very expensive, and a big reason why tourists are charged so much to visit the gorillas.
Permits offer a path out of poverty
But it's certainly not the only reason. As pioneers in community-led conservation, we long ago recognised the importance of giving those people living alongside the gorillas a chance to pull themselves out of poverty. After all, poverty is the reason why poachers poach or people buy illegally-sourced charcoal. This is why a proportion of the cost of a permit goes to local communities. It's only fair that they benefit from the tourism industry and, with this money being used to fund development projects that give people a viable alternative to poaching, it really is a win-win situation for both humans and gorillas.
The third main reason why permits are so pricey is to keep tourist numbers at a manageable level. Again, gorillas are wild animals and so we need to strike a balance between bringing in tourism revenues to help fund rangers and finance community development projects on the one hand, and on the other ensuring the gorillas are left in peace as much as possible. Crowds can stress gorillas out, plus big tourist groups will also need proper paths to be cut through the vegetation, damaging the delicate ecosystem of the Virungas.
For now, it would seem that we are getting the balance just right; mountain gorilla numbers are steady and even increasing, and the tourism industry across the three countries that are home to the great apes is thriving, bringing with it valuable income. But we will have to wait and see what effect Rwanda's decision to double the price of their gorilla permits will have – fingers crossed it will help to further strengthen conservation efforts while also bringing communities out of poverty, but without ensuring that seeing gorillas in their natural habitat is an experience out of reach of all but a privileged few.